.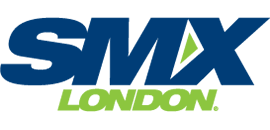 First of all, we wanted to reiterate how fantastic the SMX London conference has been – covering all the main areas in search marketing today with a range of interesting, current and practical sessions.
As we did for Day One, however, we wanted to start by providing a holistic overview and, from the array of talks we attended today, there was definitely a theme of urgency.
"Just get involved – whatever the fear, there's more harm if you don't"
Naturally, every session covered today had its individual points, but the underlying message was basically, as Nike would say, "just do it".
If you're not getting involved with certain processes (that is, ones that the whole industry knows – or is strongly convinced – will add significant benefit to your site quality and optimization, authority and marketing reach), you can put money on the fact that your competitors are.
That means they're stealing a march on you. Below we have outlined the concepts you need to be getting to grips with, sooner rather than later.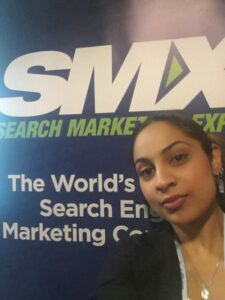 Digital State Staff at SMX London.
Social Media
When you think about social media for your business, don't think of it being any different to sharing with an individual so you need to focus on what topics people actually engage with and what gets them talking. Ignoring the relatively unnatural process of marketing a product or service, people use social media to share, like, retweet, and comment on:
• Content that makes them laugh
• Promotions on products that offer a discount
• Something that makes them think
• Content that is deemed newsworthy
• Content that speaks to them specifically about their interests, such as hobbies
The development of this content comes from an understanding of your audience (and, given its complexity, this is a topic we will return to in a separate article). However, once you have a content development plan and you've generated an audience, don't spam them with annoying or irrelevant content – keep them interested, learn from your mistakes and don't stop – persistence is key to embedding your brand in the mind of your audience.
On top of understanding the content that your audience wants to see and use, consider the platforms and mediums they prefer and how you can best articulate your message:
• Don't just post text; upgrade to infographics (they're surprisingly cheap to generate once you have a clarity of message).
• Don't just post images, upgrade your message to YouTube videos (it doesn't necessarily have to be slick – people will engage with a quickly captured iPhone video).
And lastly, it should be deemed mandatory to have social media integrated within your SEO campaign. What is your search marketing focus? Is your social media activity supporting this? And if not, why not?
Just get involved!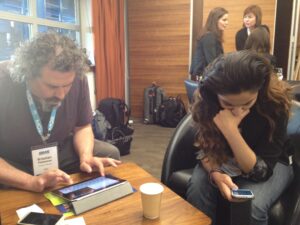 Digital State Staff at SMX London.
Keniz from Digital State and Danny Sullivan of Search Engine Land.Technical SEO
Having a technically compliant and Google-friendly site is, to borrow a phrase, a no-brainer.
Make sure your site can be crawled, indexed and read properly by search engines and its users. And, vitally going forward, you MUST be considering this for mobile users as well as your more traditional desktop visitors.
UK has a 75% smartphone penetration and Spain leading at 80% @martijnbeijk #SMX #25Bln

— Alan K'necht (@aknecht) May 14, 2014
And nowhere was the message of "just do it" any more loudly shouted than in relation to schema markup and its benefit in supporting rich snippets. Even though the exact correlation between the two was disputed and the exact best practice remains a work in progress, there was absolute consensus that all efforts in this arena would be very well received and should be engage with as a matter of priority. So ask yourself – have you got rich snippets and, either way, can your users view rich snippets to access information more effectively?
Again, don't think that you are exempt from this – if you think your site is perfect, you're almost certainly wrong and there are always ways to develop and grow.
Just get involved!
Despite all the gossip, G+ is not dying; if anything it is evolving.
Google have created communities that are well integrated and there is constant evolution of the features within Google+.
The big questions you need to consider:
Have you got a personal G+ page and are you employing a REL = Author markup on your site?
Do you have a (fully optimized) local Google+ page?
Do you have a business Google+ page (and does it employ a REL=Publisher markup)?
Are you joined (and engaged with) communities?
Are you joined (and engaged with) any hangouts?
There is no downside to researching and engaging on these issues and plenty of upsides. Google will constantly be upgrading and evolving so get involved now and keep up with the latest version and trends.
The energy at the conference was palpable and infectious – this needs to be coursing through your veins as you work on your marketing and, in case you'd forgotten…
Just get involved!
For more information about what's going on at SMX London 2014 check out the Digital State on LinkedIn or the #smx tag. If you are recruiting Senior marketing talent then speak to our sister company Cooper North.